Happy Friday Eve everyone!
I'm a little exhausted today as I was at work until 2 am this morning working on inventory, and an alarm that went of at 5:45 am. So, I fully expect that the fiance is going to be shouting out a lot of OOOPPPSSS! 🙂
I woke up a little scary looking, but I pulled myself together with my "power bun" this morning. It's not only good for race PR's, but for getting to work super fast! LOL
Of course I had to sport a sparkly headband. I love these things and need more. Just sayin'
I ran into a dilemma first thing this morning, and looking back I am a tiny bit grossed out with myself. I was hungry. Like really hungry. My meal last night consisted of beef jerky and Pringles (and soggy spring rolls) while I looked at way to0 many numbers and calculations.
I was craving an everything bagel, but I only had enough chive and onion cream cheese for half. So, I did what any normal sleep deprived person would do. I put the cream cheese on half, crunchy peanut butter on the other half… slapped it together like a sandwich and ate the heck out of it on the way down the elevator on my way to work! Don't judge me 🙂
To back track a bit, I got home super late… or should I say super early this morning (2am). My sweet fiance had a post it note sitting on the counter to make me smile… and it truly did. Thanks my love!
I have been home for a bit, and it was nice to catch up with the love of my life. I feel like I haven't seen my blue eyed beauty in days! She was super sweet and ordered us Yardhouse from Grub Hub for dinner! I got a crunchy ahi tuna salad for dinner… can't wait to dive in (after I finish this post). PS – we are watching Celebrity Big Brother while we eat. Anyone else addicted?
Before we ordered dinner, we walked around our amazing resort like apartment complex. We found an electric fire pit! As you know, we LOVE fire pits!!! We will be sitting outside on this thing this weekend, that is for sure!
Something I am so so so so SO excited to announce, is that I signed up to become an RRCA certified running coach. There are only about 15 different courses across the USA this year, and I was looking at the one in Arlington VA last year at this time… but we moved to good ol' San Antonio TX. NOTHING was close, so I was ecstatic to get an email today that one had been announced for San Antonio in May.
Only 35 can attend the course, and by the time I opened the email, only 15 spots remained. I had to act quickly. So, I texted my amazing/incredible/supportive/perfect fiance, and she was completely okay with me taking the course! It's a little expensive, but I'll have that certification forever and can up my level of coaching… will learn SO much and be able to train other runners. I will become First Aide and CPR certified and will gain so much knowledge that will add to my complete love for this incredible sport. I. Cant. Wait!
I have heard this course is a bit tough, so I will have a lot of studying to do! 400 pages of info, two days of class… certifications (first aide and CPR) on top of becoming certified and an exam I have to pass from 400 pages of info. I cant wait! Apparently though, the breakdown of the two days doesn't even begin to cover the spectrum of things we need to know! Bring it on! To be continued 🙂
Another exciting thing – Save The Dates! As you know, Lynn and I are getting married 11/23/2019 and I couldn't be more in love. Minted reached out and is sponsoring our Save the Dates, so stay tuned as we select and make decisions as we continue this journey toward our I Do's.
This weekend is going to be full of wedding planning. I'm so very lucky! I will have a lot to speak to regarding Minted, but you can click on the link in my gear as of right now and already receive 30% off Save the Dates, OR you can receive discounts on Valentines for your kiddos in the classroom, etc as a thank you for checking it out! Click the link —>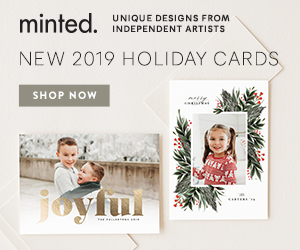 Finally, I will be giving away the final (autographed) Shalane Flanagan cookbook Run Fast. Cook Fast. Eat Slow Sunday. To win:
1 – Follow my blog by inputting your email
2 – Follow my instagram @roadrunnerchic1
3 – Comment about anything you love about running, goals or food
See you at the start line! I'm ready for a run this weekend! I have a crack of the back tomorrow followed by my first ART appointment (similar to ARP) as my LEFT ankle now is killing me. 15 days to NOLA… I wanted to run like the wind… but I'll be running with heart and hopefully two working ankles at that juncture. I got this!
TGIF(Eve)


And, I didn't share this picture of myself and my sweet girl at the expo last week. I want to go back and experience it all again. Glad I have NOLA to experience with her…going to be incredible!
Questions –
– Why do you want the incredible cookbook?!
– Have you ran NOLA RnR or Austin before?
– If you are RRCA Certified… pointers. Send them my way!