**This blog post is sponsored by minted.com and affiliate links are included**
Once upon a time, a green eyed girl fell head over hills in love with a beautiful blue eyed girl….
Last year (almost a year ago, wow!) we were both planning proposals which I spoke about HERE
We are so excited to be diving into wedding planning and Save the Dates was something at the top of our list! One, because we are so excited and can't wait to have our friends and family with us on our big day. Two, we wanted to send out earlier than the norm because our wedding is the weekend before Thanksgiving. Gobble Gobble
Over the holidays we received quite a few family Christmas cards, wedding invitations, baby shower announcements etc… We loved each and every one of them (they are all on our fridge) and we noticed they had one thing in common. They were all ordered from Minted
So, we wanted to be as cool and creative as the rest of the world and I reached out to the wonderful Minted team. Jess and Amy were SO incredibly amazing and made us even more excited to design and receive our beautiful Save the Dates!
The process was incredibly easy. The website is super user friendly and we felt classy as we designed our beautiful Save the Dates! I'll be honest, my lovely fiance did most of the designing part, but I gave her the thumbs up of approval 🙂 Click below to begin creating your very own and save 30% now!
Now, I've ordered things online before and quick to me (especially when custom designed) is like a week. We had these beauties in our mailbox in 48-72 hours. I couldn't believe it when I opened the box and saw MINTED staring me straight in the face. I couldn't open the box fast enough!
When I finally got the box upstairs to dive in, I was in love with not only the packaging, but the examples of wedding invitations and the mini calendar that was included to celebrate 10 years of innovative design! We are using this on our entry table and I smile each day I see it!
Bella and Emmy were super excited and wanted to pose with their Mommies' Save the Dates as well! Okay, they were clueless and wanted to go back to sleep, but we just HAD to include them in our fun.
We decided to wait a few weeks and make it a date night when we had the time to sit down and fill them out to send to friends and family. With lots of races the past few weekends, we decided last night was the night. So, we gathered our addresses, Save the Dates, and some pens… and headed to Yardhouse. Nothing like dinner, drinks and save the dates!
We had so much fun talking about proposals (which is what the pictures on our Save the Dates are from), trying to remember everyone (we should've ordered more!) and just enjoying each other's company while we thought about our big day.
We had to have romantic stamps for our Save the Dates. However, when the heck did stamps go up to .55 cents? I thought they still cost a quarter 🙂
When we got home (about 4 hours later), we stopped by the mail room to send them off into the universe aka Family & Friends! We will need pictures of each and every one of your super excited faces as you receive and hang on your refrigerator. Please and thank you!
Minted isn't only for Save the Dates, however! Check out their website for all things celebratory, etc! From graduations, birth announcements and Christmas cards… you can create anything your little (or BIG) heart desires!
We will definitely be using them for our Wedding Invitations and can't wait to start designing and creating (cracks knuckles).
MINTED – Create Now!
I hope everyone has an amazing Friday night! We have Mom Papke in town to accompany us our our wedding dress shopping tomorrow. Pretty exciting stuff!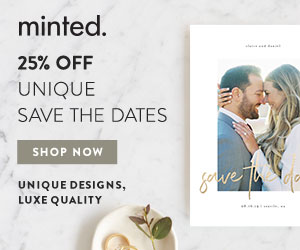 See you at the Altar….Have a great weekend!
Questions:
–How many wedding dresses do you think I will try on before I say YES TO THE DRESS?!
– How many wedding dresses do you think LYNN will try on before she says YES TO THE DRESS?!